MTI uses TAAF funding to support new product and new technology
"GLTAAC has been highly supportive of helping to grow our business. We have had a great experience with GLTAAC and the TAAF Program."
—Kelly Kregel, Marketing Manager
Background
Manufacturing Technology, Inc. (MTI) is a specialty machine manufacturer headquartered in South Bend, Indiana. Originally founded in 1926, the company is now the global leader in the design and production of friction welding machines and services. MTI provides custom-engineered solutions for key players in the automotive, aerospace, oil and gas, and military industries.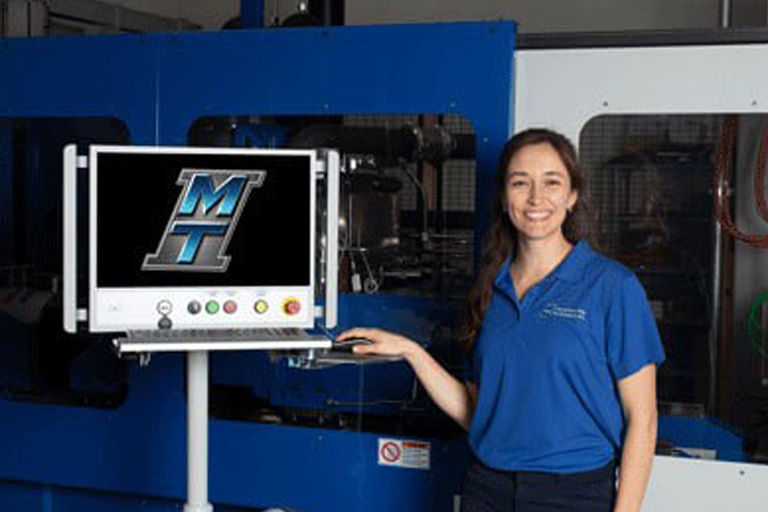 MTI's Constanza Lengerich in front of a Low Force Friction Welding Machine for R&D.
Just before coming to GLTAAC, MTI developed a new line of machines using Low Force Friction Welding technology—a solid-state process where joining occurs below the melting temperature of the two parts being joined, resulting in weld properties that are superior to welds created with traditional fusion processes.
Because Low Force Friction Welding is an emerging technology unique to MTI, many customers were still unaware of its benefits. So, MTI needed to educate customers and promote the technology to successfully introduce their machines to the market.
Approach
To address this challenge, MTI selected an outside consultant and used TAAF matching funds for a targeted marketing project. The 8-month effort took a forward-thinking approach of jointly promoting the product, while also educating customers about the technology and its benefits.
The Project began by updating MTI's website to include their Low Force Friction Welding product offerings via new images, stories, and regular postings. Next, the consultant developed a video series called "Whiteboard Wednesdays," which consisted of 3 two-minute videos presenting and explaining different aspects of low force friction welding.
Finally, a comprehensive social media campaign was undertaken, targeted at prospective customers as well as those still in the learning stage (including researchers and students at universities).
Results
MTI has received double the number of targeted sales opportunities. The increase in opportunities shows that the word is getting out about MTI's Low Force Friction Welding technology, driven by a creative and collaborative effort between company, outside consulting, and TAAF funding support.
In addition to Low Force, TAAF funding was also used to promote MTI's LF35-75, which was developed in partnership with LIFT (Lightweight Innovations for Tomorrow).