New Website is centerpiece for Automated Machine Systems' strategic marketing program
"TAAF assistance helped us to work with outside expertise to sharpen our message about the value we provide for our customers. This set of projects let us show that AMS is dedicated to being our customers' partner in resolving tough automation challenges."
—Chris Edwall, VP/General Manager
Background
Automated Machine Systems, Inc. (AMS) is a leading automation systems manufacturer based in Cincinnati. AMS serves the medical device development, plastic processors, consumer, and transportation industries. The manufacturer offers a variety of automated testing and assembly solutions including plastic assembly, leak testing, nut insertion, precision fastening, press machines, glue dispensing and clip installation. The company's unique 17-step process to manufacturing automation delivers proven results to their clients.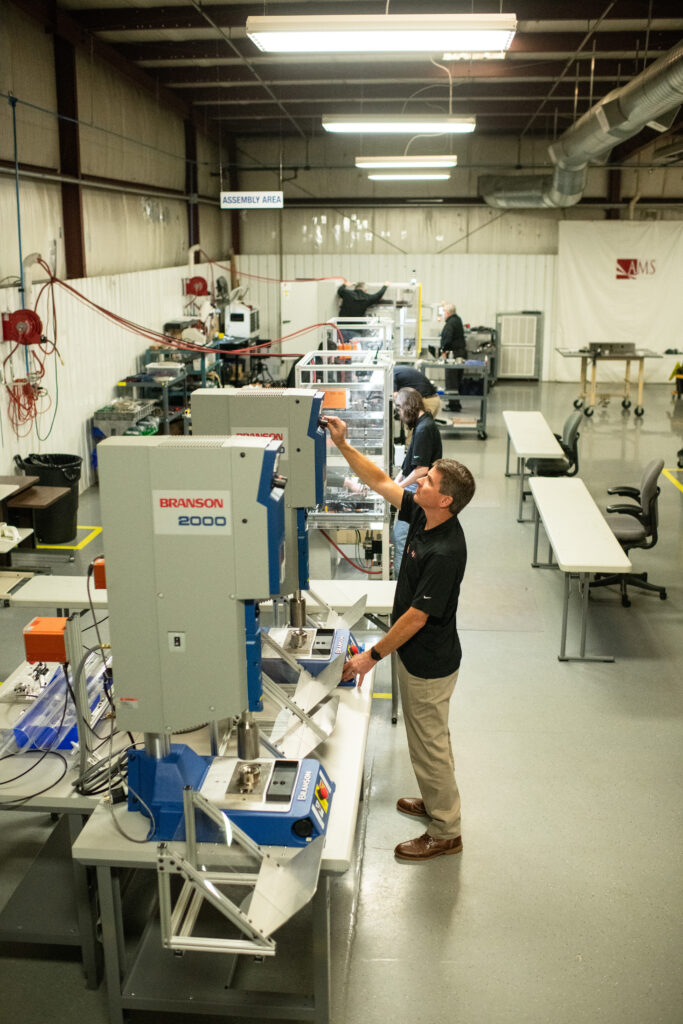 When their sales were hit by foreign competition, AMS turned to GLTAAC. They worked with the GLTAAC team to create their customized TAAF Adjustment Plan, which had a strong emphasis on improving AMS' strategic and digital marketing.
Approach
AMS wanted to grow the value of their firm within 10 years by expanding product offerings and acquiring new customers in both current and adjacent markets. However, their marketing plan lacked focus and effectiveness in achieving these goals because of the bandwidth of their team.
AMS got off to a quick start in TAAF by using its matching funds for three projects designed to address their marketing needs: refining and implementing their marketing/sales strategy; updating their website; and generating leads. AMS selected outside expertise to help them tackle each project.
With one of the consultants coordinating all 3 projects, AMS placed primary focus on the website update as the centerpiece of their efforts. They knew that an improved website could work to generate more traffic and leads. A digital marketing firm in Cincinnati that provides inbound marketing services, including top-notch websites, was called in to help AMS better communicate the value they bring to clients.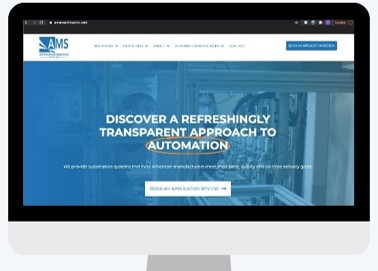 The digital marketing firm followed the StoryBrand methodology to craft a website that shows how AMS understands and solves customer problems. In just three months, the firm updated the AMS website to be more user-friendly and focused on customers' goals and pain points.
The site redesign created a clear call to action, optimizing content for SEO and focusing on the key industries AMS serves. Professional photography by a local business photographer captured authentic images of the team and innovative automation at work.
Results
AMS's new website now highlights their customer-focused results with remarkable performance data points: 99.5 percent on-time delivery rate and 97 percent customer satisfaction. Potential clients are driven, through clear conversion paths, to book an application review with an AMS team member. This high-value offer shows a dedication to providing value at every touch–even before a prospect is a client.
After the website launch, AMS began leveraging their accelerated marketing plan with email newsletters, SEO-optimized blogs, regular Google My Business posts and consistent social media content. They plan to fully leverage marketing automation to nurture contacts as well with a CRM and marketing automation. The digital marketing firm is partnering with AMS to provide a lead-generating, ongoing content plan.
The new AMS website helps portray the company's deep application knowledge and hyper-responsive support. The Freedom of Assembly Blog provides a space for thought leadership. The overall marketing plan takes marketing off the AMS team's plate and puts them on track to generate new customer leads.
Thanks to the firm's SEO strategy and plan driven by deep application knowledge of automation systems from AMS, the team received a qualified sales lead on the day after the website launch.
AMS strategic marketing efforts are ongoing, with sustained emphasis on strategy and implementation projects, plus additional website updates on deck. These TAAF co-funded efforts have enabled AMS to make progress on their plan for growth and market expansion.